Mobile Security (iOS)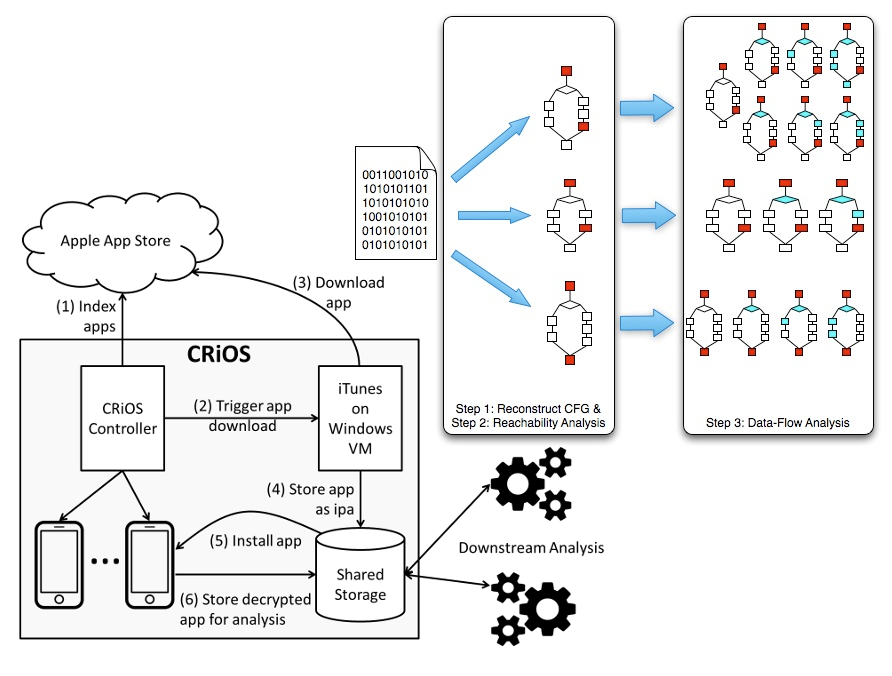 Mobile Smart Devices have become the centerpiece of society's computational needs. Securing all aspects of the mobile device ecosystem is the pillar for the research projects discussed in here.
Papers
CRiOS : Toward Large-Scale iOS Application Analysis
Damilola Orikogbo, Matthias Buechler, Manuel Egele
In Proceedings of the ACM CCS Workshop on Security and Privacy in Smartphones and Mobile Devices (SPSM)
Vienna, Austria, October 2016
MoCFI: A Framework to Mitigate Control-Flow Attacks on Smartphones.
Lucas Davi, Alexandra Dmitrienko, Manuel Egele, Thomas Fischer, Thorsten Holz, Ralf Hund, Stefan Nuernberger, Ahmad-Reza Sadeghi
In Proceedings of Network and Distributed Systems Security Symposium (NDSS)
San Diego, CA, February 2012

Challenges for Dynamic Analysis of iOS Applications
Martin Szydlowski, Manuel Egele, Christopher Kruegel, Giovanni Vigna
In Proceedings of the iNetSec Workshop on Open Research Problems in Network Security Luzerne, Switzerland, June 2011

PiOS: Detecting Privacy Leaks in iOS Applications
Manuel Egele, Christopher Kruegel, Engin Kirda, Giovanni Vigna
In Proceedings of Network and Distributed Systems Security Symposium (NDSS)
San Diego, CA, February 2011